Spotlight on Karissa Buckner, Recruiting Manager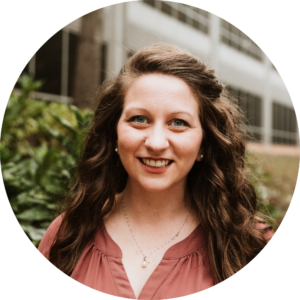 We want to help you get to know the members of Team Synergis who help put people to work. So, this month, we sat down with Karissa Buckner. She works from our Atlanta office as a Recruiting Manager and has expertise in the Creative space as well. Let's see what Karissa had to say.
Karissa, first please tell our readers a little about yourself and your professional background.
The main thing I remember my parents complaining about as a child was that my stories were always too long. I'd put so much detail into them that my audience (aka my mom and dad) would lose interest before I even got to the good part! How does that relate to my professional background? Well, it doesn't really, except to say that I've always been a storyteller.
It still took me a full semester to realize that I should major in English. From there, everyone always assumed, "You're going to be a teacher?" Nope, not for me. "Oh. Then what will you do?" Great question. I had no idea. So, I graduated with wonderfully honed storytelling skills, and no idea what to do with them.  A friend recommended I work with a staffing agency to get a temp position while I figured that out. And it turns out I was much more interested in what my recruiter did than in the temp role. When a recruiting agency reached out a couple months later, I jumped on the opportunity to move toward recruiting.
Once I joined Synergis, everything clicked. I get to tell the story of awesome jobs at really cool companies to candidates and tell the story of candidate passions and skills to clients who need just that. I even tap into my love of fine arts by focusing on creative candidates!
What attracted you to work in the staffing industry?
Honestly, the matchmaking aspect of finding the right job for the right person, and the right person for the right job. It's not just a rewarding puzzle to solve. But finding that exact match that solves a client's need and makes a candidate's dream a reality is so fulfilling.
What are your favorite aspects of working with candidates?
Hearing their story! I love getting to know what makes someone tick and learning about their passions.
Do you have a particular candidate story that's memorable that you'd like to share?
I've worked with so many amazing candidates over the years. One in particular was in a rut trying to transition from academia into the business world. She had all the right experience and skill set but couldn't figure out how to go from freelancing and short-term gigs to land that first corporate job. She was so sweet and easy to talk to, and clearly passionate about what she did! I was able to present her to a former consultant-turned-hiring manager who happened to go through the exact same scenario with me. I coached her through the interview process to ultimately accept her first corporate role! Several months later, that contract ended earlier than expected, and within a couple of weeks I was able to place her in a full-time position, which was not only a great fit culturally, but allowed her to pursue some of her other passions and community outreach as well. Keeping in touch with her and hearing how happy she is months (and years!) later still brings a huge smile to my face.
What is the one piece of advice that you consistently give candidates?
"Let your enthusiasm shine through." I know when you're in job search mode it can be so daunting, frustrating, and sometimes even demoralizing. But the best thing to do before every interview is to think about why you do what you do, and why you love it. And let your passion drive the conversation from there!
On a lighter note, what's your spirit animal?
My spirit animal is probably an Otter. They're playful and enjoy being social. They hold hands so they don't separate while they float, which really speaks to my collaboration and harmony strengths. And they carry their favorite rocks around with them – I always have a kit of things with me that includes snacks, things to do/read, etc. I also love how cute they are!
Connect with Karissa on LinkedIn!
"*" indicates required fields