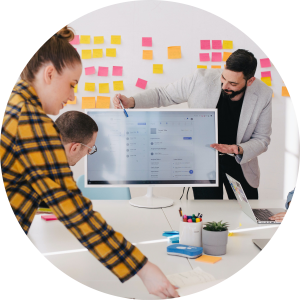 An Instructional Designer (ID) is paramount to the learning and training process of an organization and often serve at the intersection of teaching and design. This role is typically tasked with redesigning courses, developing new courses or curriculums from scratch, and creating training materials such as manuals, user guides and learning modules.
Naturally, many Instructional Designer jobs are dependent upon the growth of an organization and the level of importance the company places on their training needs. The more hiring, onboarding and continued training a company is doing or planning to do, the more likely they need to add headcount to their Learning and Development team.
Many of our clients are looking to fill this type of role now that everyone is being forced to train remotely. And, now more than ever, the in-classroom training needs to be converted to e-learning modules or virtual training classes, which requires some help.
To help find the right Instructional Designer (ID) for your team, here are the must-have skillsets.
Understanding of key learning models. Many IDs begin their projects by meeting with stakeholders to conduct a needs assessment, and they follow a 5-step process called the ADDIE model. The five phases – Analysis, Design, Development, Implementation and Evaluation – represent a dynamic, flexible guideline for building effective training. Strong knowledge and execution of the ADDIE model is a critical qualification for any ID role.
Knowing eLearning technology. During the design and development phases of the ADDIE model, many IDs are also using software programs and tools to develop "eLearning," which simply put is "electronic learning" or online learning. eLearning utilizes electronic technologies to access educational curriculum completely online. Popular eLearning software includes programs such as: Adobe Captivate, Articulate Storyline, Camtasia and Premier Pro more commonly used for multimedia (video) development.
Developing learning materials for all. Depending on your business and the subject matter, an ID might be developing learning materials for a varied audience. Common training could include topics like ERP systems training or a very technical audience, it may be more related to soft-skills for sales reps or customer service, or it could be related to compliance, safety training, new-hire onboarding, leadership development and so many other topics.
Exhibiting soft skills. No matter what the ID scenario is, superior communication, organization and knowledge of adult learning theories are critical. This includes being able to communicate complex topics to all types of audiences.
Showing their work. Many of our clients distinguish a good ID from a great one based on the examples of work a candidate can show in an interview. Similar to a web designer, many IDs will create a portfolio or personal website with samples of the learning modules and training they've developed for clients in the past. They may include a home page with a bio, contact information, a resume, as well as a portion dedicated to examples of their work. In recent years, we've worked with many clients who prefer to look at a portfolio before anything else, because so much of this role depends on the candidate's design process, creativity and overall aesthetic.
Attaining higher and continuing education. A Master's Degree in Instructional Design or Educational Technology will likely be the most comprehensive education on the subject. Many folks, however, are not able to make the time or financial investment an advanced degree requires and instead may leverage certifications from online courses. Many will take continued learning courses related to eLearning tools like Captivate or Storyline, which can be a major resume booster and help jumpstart their online portfolios.
Knowing ID software tools. Being well versed in eLearning software and common authoring tools is a must for an Instructional Design role nowadays. These include: Adobe Captivate, Camtasia Studio, Articulate Storyline and Lectora as well as Photoshop, InDesign and the rest of the Adobe Creative Suite. Knowing every authoring tool is not always required, but since you probably have a tool that you have invested in and prefer, it is helpful to find a candidate with familiarity across the board. As an added bonus, an ID might have foundational knowledge of coding and web technologies such as HTML, CSS and JavaScript as well. These skills add tremendous value if you need someone to dig into code, work closely with engineers or convert highly complex and technical topics into a simple format.
Almost any organization can benefit from having a strong Learning and Development team, which usually consists of IDs, Training Project Managers, Learning Management System Specialists and more. However, some of our clients place more of an emphasis on hiring L&D consultants than others. Either way, if you need to build a Learning and Development team, or just need someone on a project basis, we can help. Contact us to find out how.

https://www.synergishr.com/wp-content/uploads/2020/06/Instructional-design-scaled.jpg
1707
2560
Vanessa Princi, Sr. Recruiter
https://www.synergishr.com/wp-content/uploads/2019/09/Synergis_logoside-300x47.png
Vanessa Princi, Sr. Recruiter
2020-06-03 08:00:11
2021-04-28 12:39:26
7 must-have skills in an Instructional Designer