Atlanta Habitat house dedicated to deserving family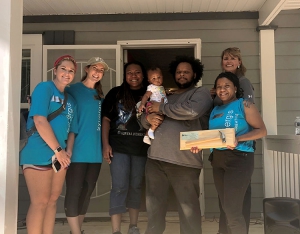 ALPHARETTA, GA (July 11, 2019) Members from Atlanta's business community, including IT and creative staffing firm, Synergis, have been picking up hammers and drills to rehab an older home alongside an Atlanta Habitat for Humanity homebuyer in Center Hill, Georgia.
Working under the direction of Atlanta Habitat, volunteers addressed affordable housing, a key factor in helping people break multi-generational poverty and achieve stability. On June 28, 2019, the house was dedicated and ready for the family to move in.
Participating Georgia companies contributed $80,000 to build the house, including the addition of a bathroom, and provided 300 volunteers, who worked over the course of the 56 hours on the build site. Businesses that participated in the build included: 3Ci, BrandSafway, Federal Home Loan Bank of Atlanta, Inspire Brands, InterContinental Hotels Group, Landis+Gyr, Presidio Networked Solutions, Pyramid Consulting, Southern Company, Synergis and Voya Financial.
"Volunteering gives us the opportunity to connect with the community, other Atlanta businesses and coworkers," said Doug Ross, president and founder of Synergis. "It is inspiring to see people unite around a common goal. As an organization, we are committed to building a better community, which is why I also encourage employees to serve. Atlanta Habitat helps us to do that and we look forward to it every year!"
About Synergis
Synergis is a staffing and workforce solutions partner serving thousands of businesses and job seekers nationwide. Choosing specialization over a generalized recruiting approach, Synergis helps IT professionals and creative marketing talent build great careers by carefully matching their abilities to the needs of client businesses. Find out how Synergis is reshaping what hiring success looks like in the IT and creative marketing sectors at www.synergishr.com.
About Atlanta Habitat for Humanity
Atlanta Habitat for Humanity transforms communities through neighborhood revitalization, education, innovative development and partnerships. As one of the largest affiliates of Habitat for Humanity International, Atlanta Habitat has built more than 1,600 houses—impacting the lives of more than 6,000 family members—since 1983. In addition to constructing affordable, green, quality homes, the nonprofit homebuilder also rehabs existing structures and performs minor repairs for qualifying homeowners. Houses are sold to very low- to low-income, first-time homebuyers through zero-interest mortgages in Atlanta and South Fulton County. Visit www.atlantahabitat.org.
"*" indicates required fields