Conversation with Account Executive, Anna Geyer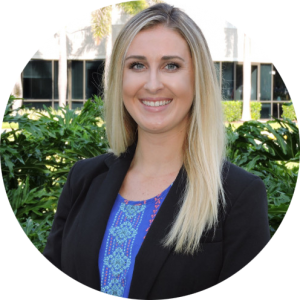 We've been on a bit of a hiatus, but we want to get back to highlighting our team. So, let's get to know the professionals at Synergis that help put people to work. This month, we sat down with Anna Geyer, Account Executive, who works from San Francisco.
Anna, first please tell our readers a little about yourself and your professional background.
I'm originally a Florida native. I grew up in the panhandle and lived in Orlando for six years. I went to school at the University of Central Florida (Go Knights!). Once I graduated, I had no idea what I wanted to do with my life. I really enjoyed helping people, and I was working in the hospitality/customer service industry throughout college. I had some friends in recruiting and stumbled into it. I started out in Healthcare recruiting and fell in love with the job. I was talking to people all the time and helping them through one of the toughest times in their lives…finding a job. I found success early on in my career, but after two years, felt that I had to make a change to expand my recruiting knowledge to a different industry. I started recruiting IT positions in 2019 and haven't looked back since. I moved to the San Francisco bay area in early 2020, and I now enjoy partnering with our clients and on our Creative and IT solutions!
 What attracted you to work in the staffing industry?
I graduated college with a Healthcare degree, so I always knew I wanted to help people in some way. Once I found out what the staffing industry truly was, I fell in love with it! I was attracted to the conversations and relationships you could build with one phone call. I got excited when the people I talked to get excited. And it made it a more rewarding job when I knew I was doing good for others.
 What are your favorite aspects of working with clients?
My favorite aspect about working with clients is learning more about different industry knowledge. I love to learn and be updated on what is up and coming in different positions that I may not know about. With everything changing almost every day, it is hard to be a subject matter expert in everything IT and Creative. So, I enjoy the knowledge sharing with my clients throughout every conversation I have.
What is the one piece of advice that you consistently give clients?
My one piece of advice I give to clients is if they like someone they are interviewing, move quickly! More often than not, I've seen clients lose out on a potential hire they like because they were dragging their feet. It's important to move quickly, so you are confident you have the best hire you can get!
On a lighter note, if you were an MLB player, what would your walkout song be?
If I were an MLB player, my walk-out song would be, "All I Do Is Win" by DJ Khaled. I'm an extremely competitive person in all things that I do. Whether it is at work or in my personal life, it is important for me to strive to be my best possible self. Even if I am technically not winning at something, this song always hypes me up and gets me in a better mood to crush the day!
"*" indicates required fields