Designing a job description: moving beyond purple squirrels
Imagine a world where purple squirrels come to you. Wouldn't it be nice if your dream team member found you instead of you having to search high and low for them?
As a recruiter, I have a unique viewpoint when it comes to crafting a job post. I work with candidates every day, so I have the inside scoop into what candidates are looking for during their job hunt.
And I've realized that the difference between a job description that gets all the right applicants and one that doesn't is really just a mindset shift. Ask yourself, how will talent find us? There are tons of job postings out there, so how will you stand out?
We can start with these building blocks to help you get the ball rolling:
What's your story/mission?
What's the job?
What's required?
Why would you want the job?
Include a quick call to action.
It all comes down to aligning interests and matching up what the hiring manager and the candidate wants. We can do that by communicating more than just a few bullet points with the expectations and qualifications needed for the role.
Here are a few tips on how to expand on the basics of a job posting:
Story and mission: Having a cultural match is more important than ever. According to a Glassdoor survey, 77% of adults would consider a company's culture before applying for a job. And what's even more important is, of those participants, over 50% said that company culture is more important than salary when it comes to job satisfaction. When you include information about the culture of the company in the description it gives candidates a look into what your organization is about.
Job responsibility & requirements: Communicate to a candidate about what to expect day-to-day so they understand what they're going to be walking into.
Sell the role: You have to create excitement for the opportunity. There's currently a shortage of talent in tech and some creative areas. And communicating what makes your opportunity different or exciting from other jobs posted will help the right candidate find you quicker.
Another way you can help your job posting stand out is through your word choice in the description. Most job posts are a bulleted list where each line starts with an adverb or an action word. But using sentences that describe the day-to-day of the role enables the candidate to put themselves in the shoes of the position. Here are some examples of some standard verbiage and how I would recommend changing it up: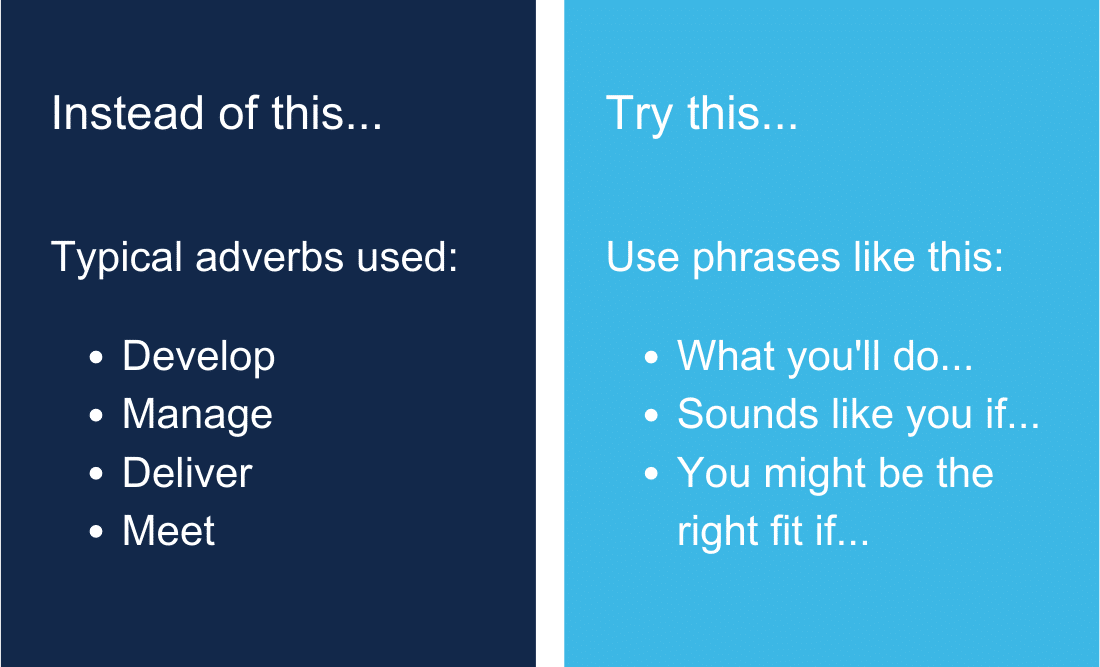 At the end of your job post, you're going to want to include a call to action. This will inform the candidate what to do next. Most candidates are actually finding their jobs now on a mobile device. So, utilizing things like Easy Apply on LinkedIn makes it possible for candidates to submit their resumes right then and there instead of logging onto their computer. Here are some tips for optimizing your calls to action: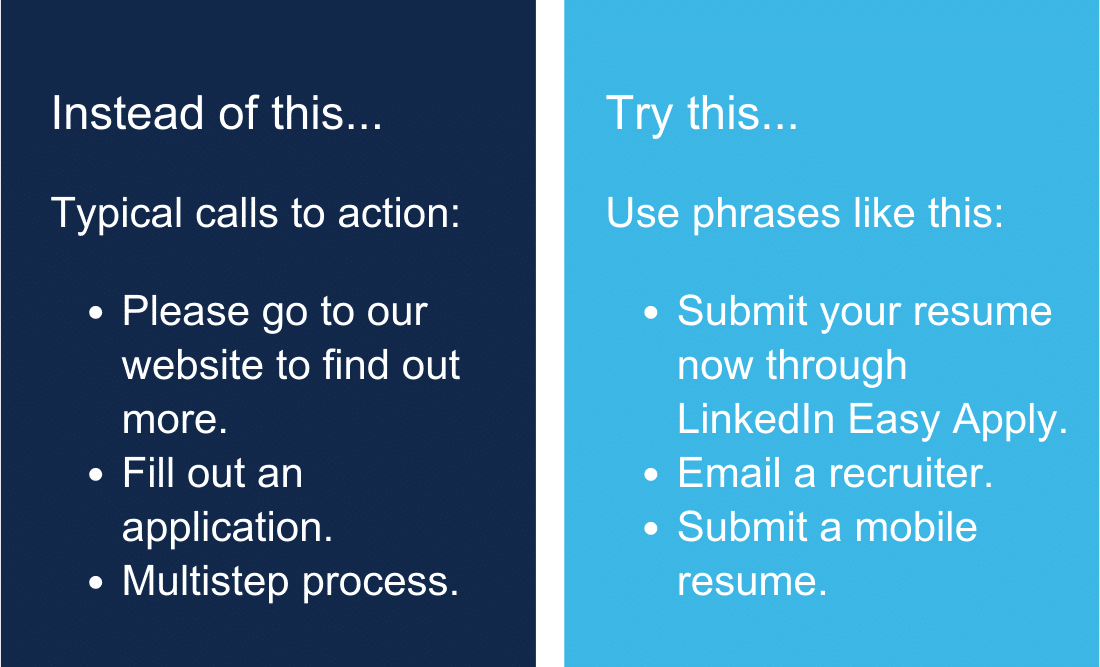 At the end of the day, job descriptions are all about aligning your organization's needs with the candidate's needs. With how competitive the job market is right now you really have to put your best foot forward to secure your dream team member. For more information check out our info sheet on how to write an attractive job description.
About the author
Mikayla Weiner is the Recruiting Manager for our San Francisco office and has been with Synergis for three years. She is proud to lead a team of recruiters who place quality first and takes the time to get to know our clients and candidates. Taking that extra time and care with each placement enables her team to make the perfect match again and again. Mikayla earned a bachelor's degree in business management from the University of Arizona. In her free time, Mikayla loves to spend time with family, have picnics in the park with friends and stay active.
"*" indicates required fields