Our chat with Sr. Account Executive, Sofia Krasny
|
Posted: September 16, 2020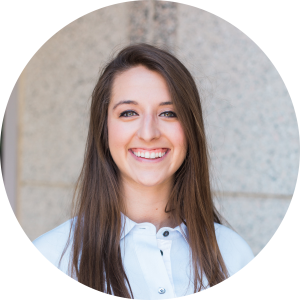 Let's get to know the professionals at Synergis that help match job opportunities with top talent. This month, we sat down with Sofia Krasny, Sr. Account Executive, who works from our office in Atlanta.
Sofia, first please tell our readers a little about yourself and your professional background.
I am a Georgia peach, born and raised OTP (for those of you not from Atlanta, that stands for outside the perimeter). I love ATL, LOVE, but still reside OTP to raise the newest addition to my crew, my 8-month-old, Naomi! Being a new mom is by far my favorite thing and I love my new hustle. She is a talker like me, but basically my husband, Max's, twin. She steals all of our attention right now, but we still get to squeeze in some puppy snuggles with our yellow lab, Charlie, and our golden retriever, Penny. They are not jealous of the new baby at all…
Outside of home life, I have been in sales for Synergis for a little over 6 years. I have watched our division grow from what was a bridge between the gap between IT and Creative, to a team of thought leaders in UX and a go-to practice for the top UX talent in the nation. I have built UX teams for Fortune 100 enterprise clients with 200+ designers and researchers, to smaller startups with a few full-stack UXers. I have so much fun doing what I do because I truly believe in finding the "why" behind each product, and enjoy watching our UX practitioners we place make an impact on the user as well as the business. I started working exclusively with Atlanta design teams and am now working across the nation with some of the best design practices in the U.S.
What attracted you to work in the staffing industry?
I am all about relationship building. I thrive on meeting new people and learning about their why. When I was trying to figure out what I wanted to do with my career, I could easily pinpoint that I wanted to work with people day in and day out. When I decided to try staffing, I immediately loved it. I don't feel like I am in sales, my product is people, and people are not a product. I build great relationships with my clients and great relationships with my candidates. I enjoy helping them land their next dream job and enjoy supporting my clients with a new collaborator for their team that will bring new ideas to the table. It's a win, win, and I am happy to be the one to marry those two things.
What are your favorite aspects of working with clients?
Working with a variety of innovative UX teams, I get to watch new products that I know will impact my community's lives from the ground up. When working with my clients, I help by acting as an extension of their team. I meet to do a deep dive on the product, the team culture, to find the missing piece of the puzzle that is needed in order to start initial discovery to final prototyping. I work with my amazing team back at Synergis Creative to find the right fit, and within a matter of days the work starts and my client is not stressing about how their deliverables will be met. UXers are passionate people, they believe in the products they are working on. I enjoy working alongside my clients and helping them achieve their goals and seeing those products used in my family's and friends' everyday use. It's extremely rewarding.
What is the one piece of advice that you consistently give clients?
UX Researchers, UX Architects, Full-Stack UX Designers, (add in the other plethora of UX titles), are in very high demand. If you feel confident that person can add value to your product and can be a great fit with your culture, don't hesitate to pull the trigger and hire them. The market is moving so quickly, and actively looking candidates are speaking to multiple opportunities. Yes, they want to work on exciting products that will make a big impact on the user, but taking too long to make a decision gives candidates hesitation in accepting an offer and they can lose that spark they felt when they spoke with your team. Waiting to make a decision to have more people to compare them to can risk you losing that person within the week. Don't compare talent with other talent in your org, look at the position you are looking to fill and compare their experience to what is needed for the job.
What skill or craft would you like to master (not related to staffing)?
Since COVID times, I have found myself cooking ALL day. I felt like the same few meals I would make during the week were getting very redundant and I would dread going to the kitchen to make spaghetti for the 3rd time that week. I knew with being a new mom, I would probably be home a lot more often than before, pandemic or no pandemic. Our world-traveling days have come to a pause, so I have been working on my chef skills and it's made my nights something to look forward to. I am half Indian, so I have been trying to master some of my family's favorite Indian dishes! The goal is to strengthen my chef chops so cooking as a family can be something I can do with my little girl in the future.
You can find Sofia Krasny on LinkedIn here.
"*" indicates required fields