Synergis Creative to sponsor World IA Day 2020
|
Posted: February 4, 2020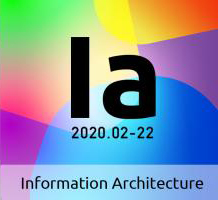 Come meet Synergis Creative at this year's event! Karissa Bucker and Eileen Sullivan will be there to answer any of your questions about UX positions in Atlanta.
The IA Element – A Celebration of Information Architecture
This year's theme celebrates one of the most important components of User Experience Design, the art and science of organizing and labeling data.
Join us as we look at the past, present, and future role of Information Architecture in helping users to navigate information and to make decisions by answering the questions:
Where am I?
What's here?
Where else can I go?
This year we are thrilled to feature one of the founders of the IA Institute.  Author of Understanding Context: Environment, Language, and Information Architecture, Andrew Hinton (Honeywell) has been an IA practitioner since the early 90's consulting for companies like American Express, Sealy, Wachovia, Shaw, and Kimberly-Clark.
Join us as we bring together passionate professionals, new students, and curious seekers in a safe and welcoming environment where learning is encouraged.
You can expect a diverse group of speakers presenting Lighting Talks, a Panel Discussion, as well as opportunities to meet and talk with a wide variety of Atlanta's User Experience community.
When: 
Saturday, February 22 – 11:30am to 5:00pm
Please note that registration takes place from 11:30am-12:30pm, with the program starting promptly at 12:30pm. We will provide some snacks and beverages, but lunch will not be served! Please plan accordingly.
Where:
Emory University, Goodrich C. White Hall building
301 Dowman Drive, Atlanta, GA 30322
For more details, and to register for the event, please visit the World IA Day website.
"*" indicates required fields