Top in-demand marketing jobs today
|
Posted: November 17, 2021
It feels like everywhere you look these days people are hiring. In 2020, the pandemic induced layoffs. And marketing jobs were seemingly the first to go as companies looked to cut costs as consumers stayed home. Many soon realized, perhaps not all marketing should have been cut… specifically online and digital-focused marketing. Cue the Great Rehiring of 2021.
As organizations scrambled to adjust to the new norm, the importance of a business's digital presence became evident. Given smartphones, computers and other devices are becoming increasingly popular for handling all consumer needs, these hiring trends don't look to be slowing down. So, what are the top Marketing roles folks are hiring for right now? Let's dive in.
Digital Marketing Roles
See something cute on Instagram and it seems to follow you throughout your life for the next 3-6 weeks? Good! That is digital marketing at its finest. Put something in your cart online and get an email two hours later asking if you "forgot something"? Digital Marketing again. All of this is to say, Digital Marketing impacts our day-to-day lives without us even realizing it.
From specialists to director level, digital marketing roles are important. They create marketing tactics and identify target audiences to raise brand awareness and ultimately drive traffic to the company's website. These roles can encompass everything from email marketing to social media to overall digital marketing strategies. The end goal of the digital marketer is to reach the targeted audience and grow revenue for the company through campaigns and digital tactics.
Here are some high-level job market data for Digital Marketing Managers, according to LinkedIn Talent Insights data: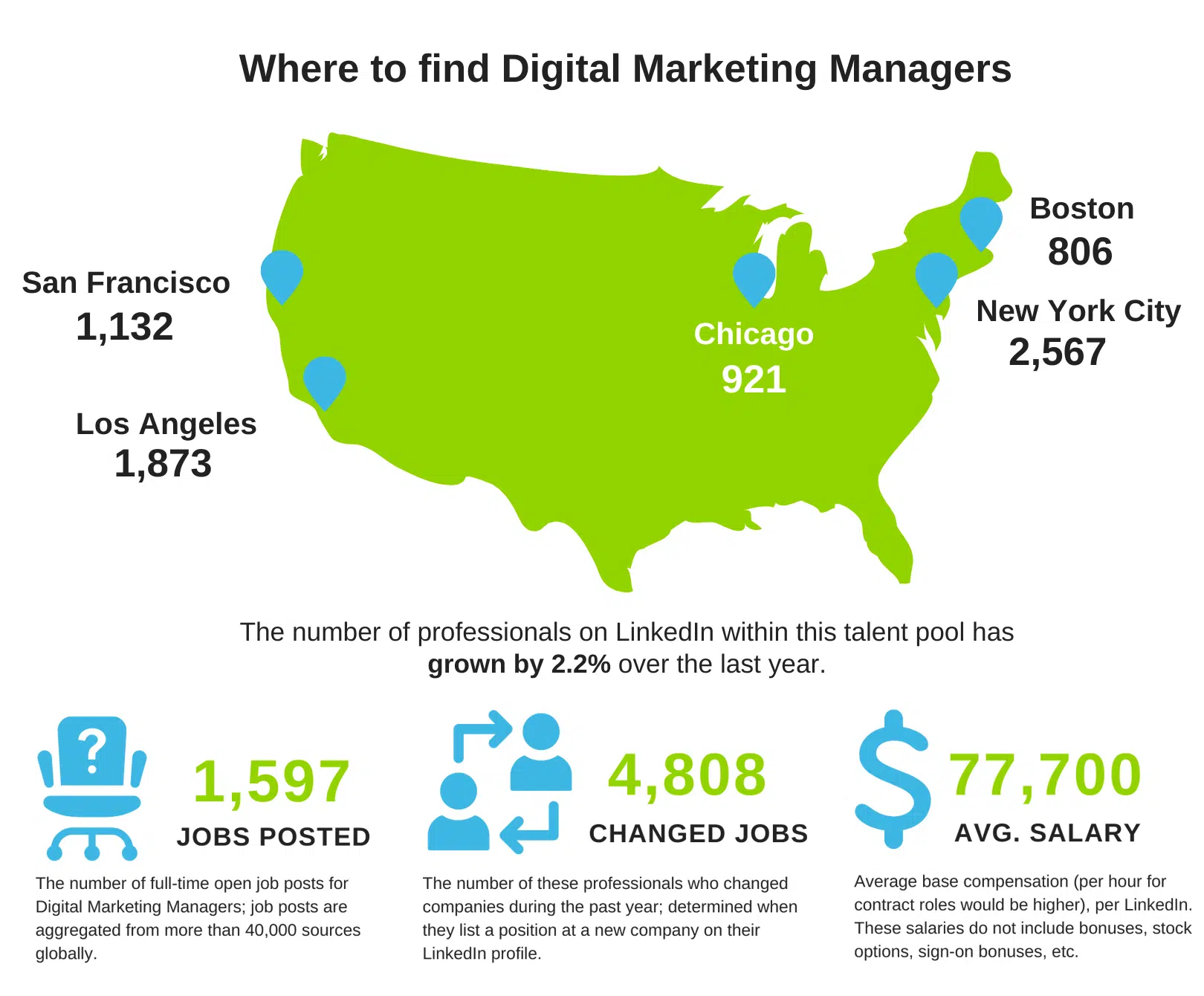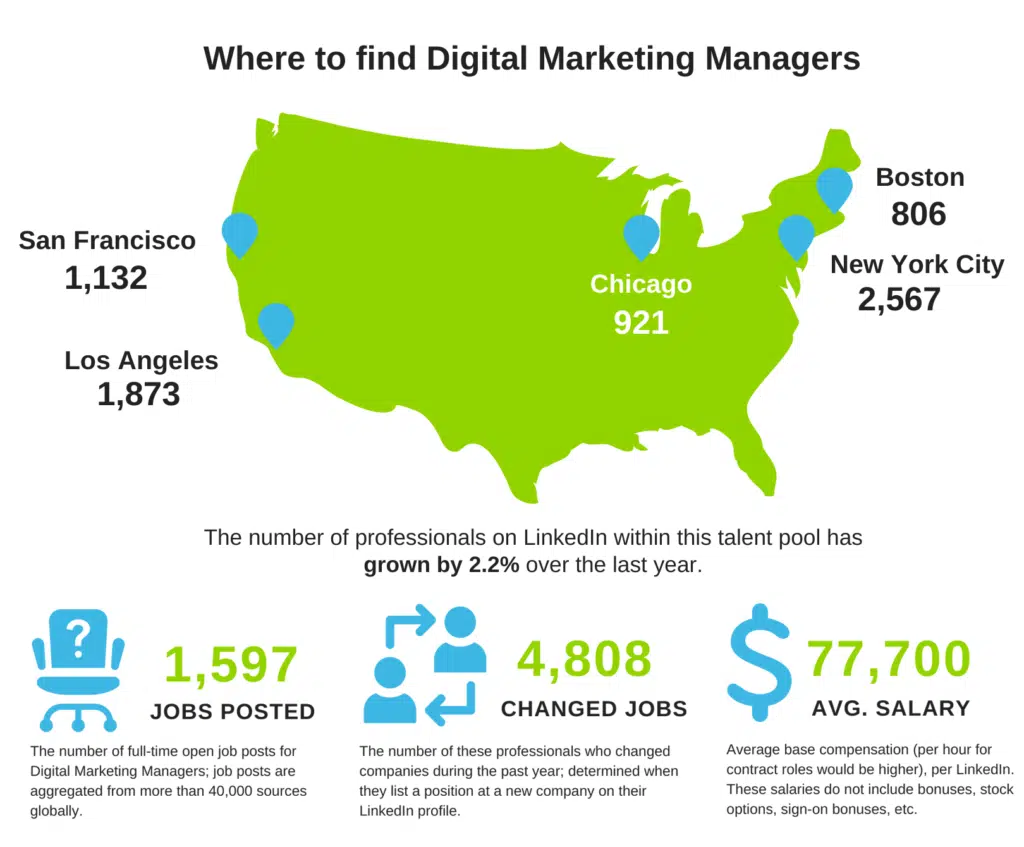 Content Strategist 
These roles are hot right now. Without a strategy, online content easily gets lost. Strategists are specifically responsible for developing content around a company's target audience. Thus, they are tracking the analytics of online traffic to determine what the audience is engaging with.
It's the job of the Content Strategist to implement measurable goals known as key performance indicators (KPIs). Additionally, they must also track accordingly to determine if the content is working. Whether the KPI is revenue growth or simply more traffic to the site, Content Strategists meticulously look at the data and make tweaks to ensure optimal site performance for the company.
Check out the job market data for Content Strategists below: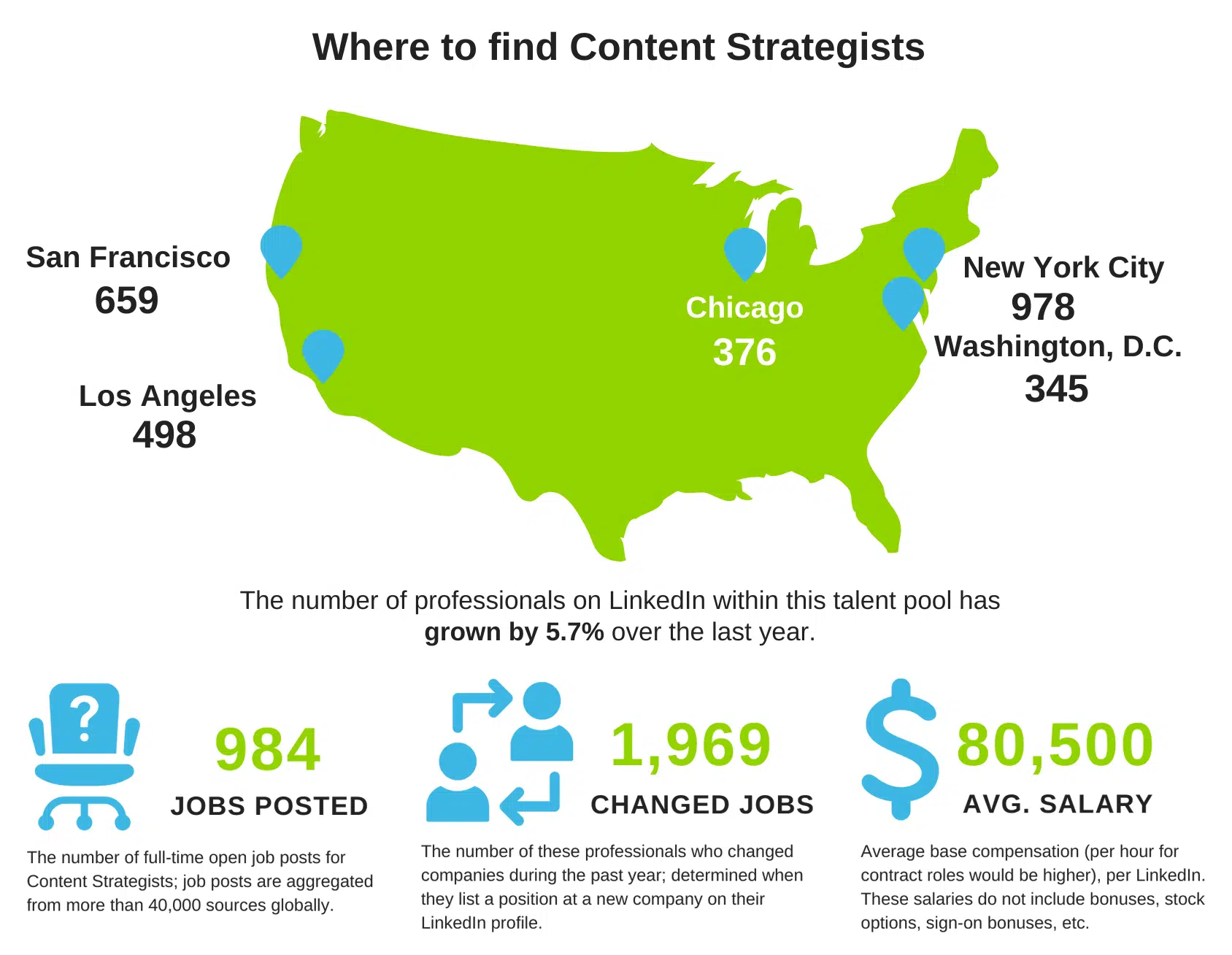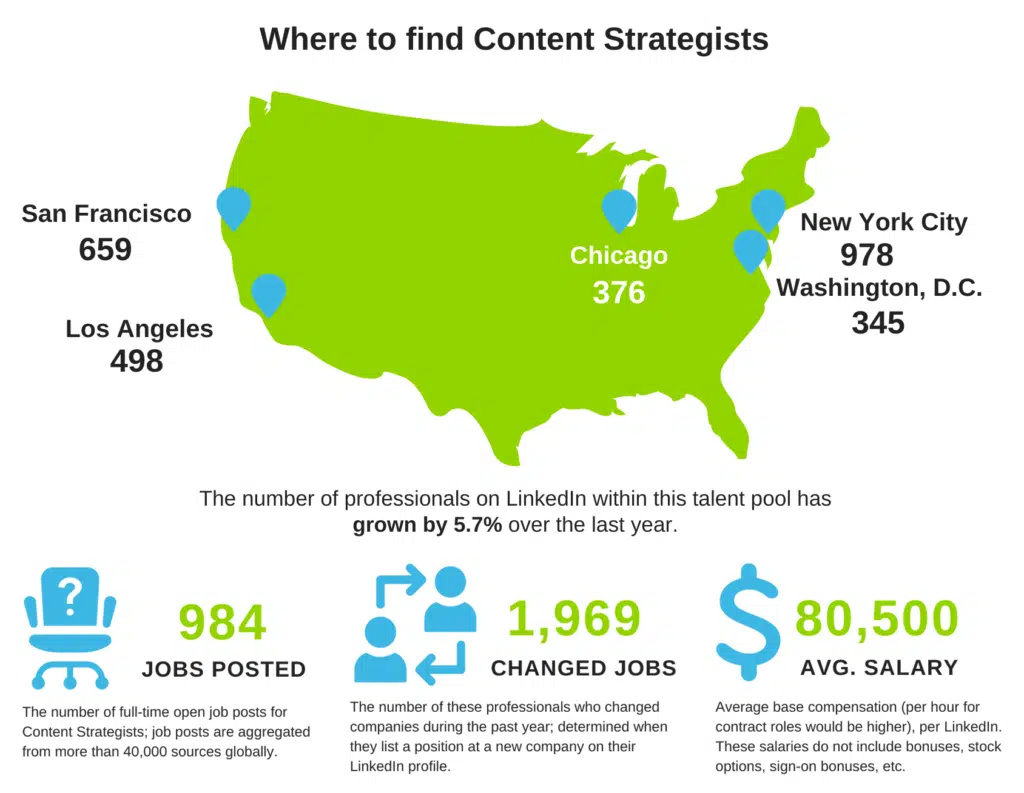 SEO and SEM Roles
To quote Ricky Bobby, "If you ain't first, you're last." Though not quite as dramatic, studies do show that the majority of searches do not go past the top five search results. This only furthers the importance of ranking at the top.
Think about when looking for a new winter coat, you probably trek over to your preferred search engine and type in "winter coat." Thousands of options pop up but those at the top of the page are essentially those you click on first. That's the beauty of SEO/SEM.
Improving your SEO/SEM equals improving your website's visibility. Online algorithms are constantly changing and without an expert on staff to monitor the trends, a brand's online presence can easily slip. These folks come into play to conduct competitive analysis, keyword research and trend research to keep the company on the top of a search page.
Here are some SEO Specialists job market data to help you with your search: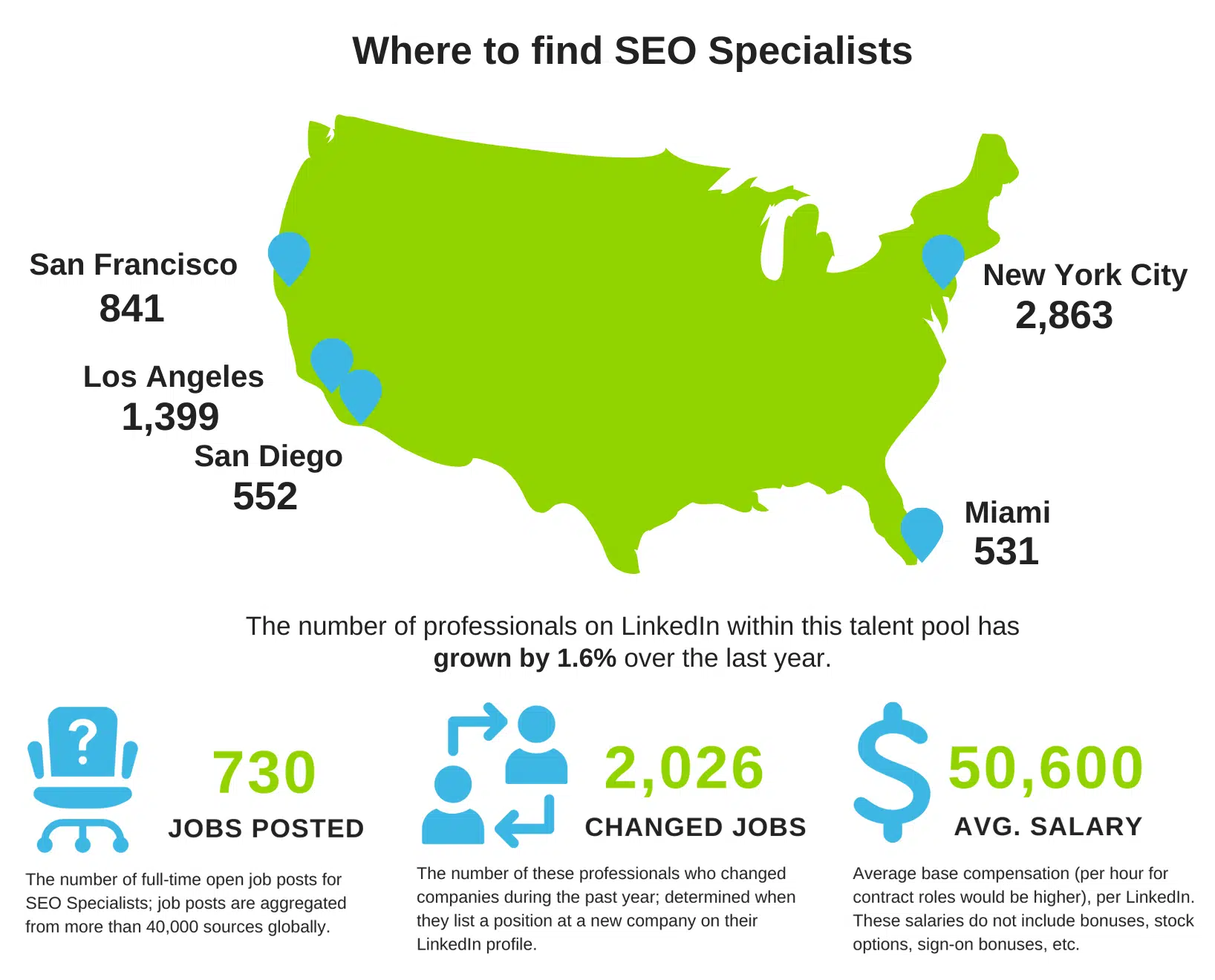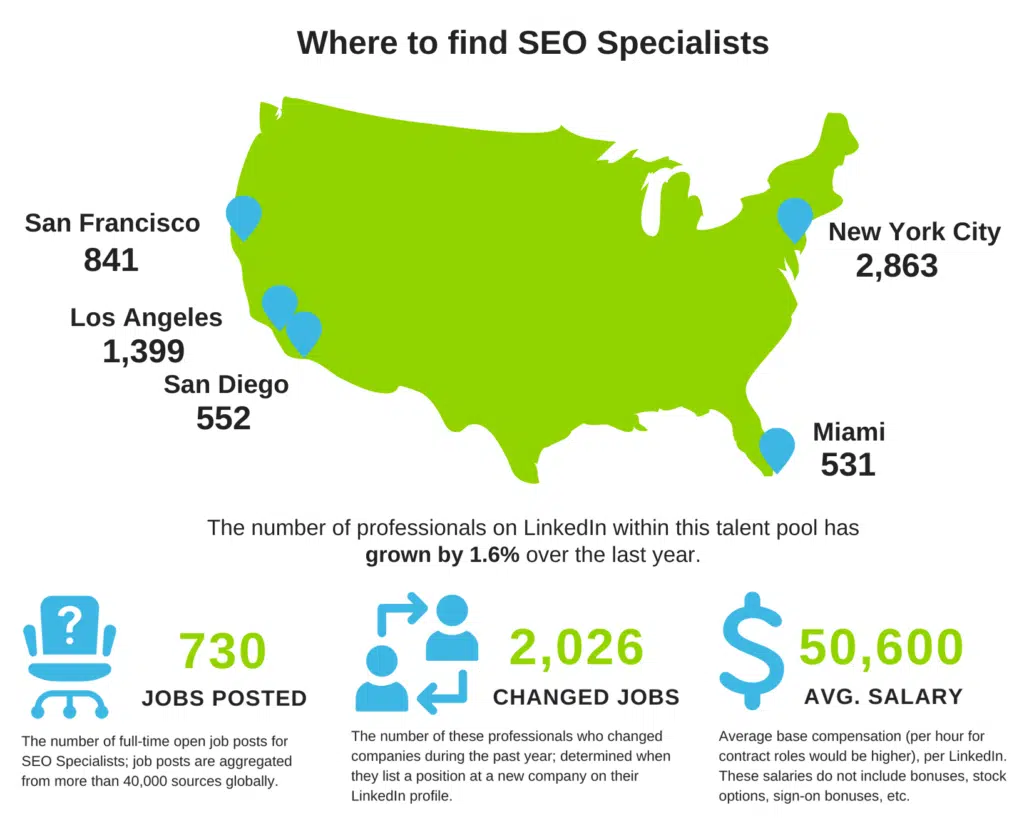 So, the takeaway? All things digital are in demand. An already digital moving generation, expedited by a pandemic, results in the need for digital expertise. And if you need help finding top digital marketing talent, contact us! We would be happy to help.
"*" indicates required fields