Are you really ready to hire?
Have you ever bought a shiny new car (dress, watch, phone, etc.) and regretted it almost immediately? You're not alone. It's only human to have this innate FOMO (fear of missing out) and jump into things before you're ready.
The same can be true when hiring for an open position. You may not completely regret the hire, per se, but perhaps the job description was a bit off, or you didn't have the time to interview candidates properly and you felt rushed to make a decision. There are many factors to consider before beginning the process.
Before you reach out to your favorite workforce solutions partner (aka Synergis 😉 ), make sure you have considered the items on this list to really be ready to hire. Your hiring process will be much smoother if you don't "put the cart before the horse," so to speak.
1. Budget
This seems like a no-brainer, but you would be surprised how often jobs come to us before final budgets have been determined for the position. It's a waste of time for everyone in the event the budget falls through, so just make sure you have the monetary resources available before you start looking. You should also check on the flexibility of your budget so that when you hit the negotiations stage, you already know if you can stretch the budget (for when we find you your perfect candidate, of course).
2. Approval/authority
Do you have the authority to add to your headcount or does it still have to be approved by someone else? Do all parties involved agree on whether the headcount should be FTE vs a contractor? Is there potential to lose the headcount if you don't hire fast enough?
3. Need
What are you looking for this person to do? Are there projects ready to be worked? Is this a new or existing project? Is this position a backfill? Basically, just make sure you have the need to hire someone.
4. MSA or SOW
Before you can work with any staffing/recruiting partner, you need to have either a Master Services Agreement (MSA) or Scope of Work (SOW) agreement in place. Make sure those are signed by all parties and cover all your contractual bases first.
5. Location requirements
Know whether this position can be remote in the U.S. vs anywhere in the world, a certain distance from your office or 100% on-site. Is the location of work flexible? How often will they be coming into an office? All important factors to figure out before listing the job. It may deter – or attract – people, but you never want to mislead them or waffle on your decision.
6. Contract terms
Will this role be contract-to-hire, contract or direct hire? If it's contract, how long is the assignment? Is there a possibility for the position to convert or extend? Is there a tenure limit?
7. Job description/required skills
Having a job description with required skills ready to go is a bonus to the process. If not, we can help you build one. But, once you've determined what is required of the job, make sure you stick to it, so no one wastes time looking for the wrong skills, location, responsibilities, etc. And the time wasted could mean missing out on talent. As far as skills go, really think about the required vs. nice-to-have ones. This is especially true if we're unable to find a 100% match for your role. And sometimes, focusing on culture fit instead of skills can be more important in the long run.
8. Type of employee
Will this employee be W2? Are Corp-to-Corp submissions allowed? Will you hire someone who is on a work visa, which usually requires sponsorship?
9. Interview process
Before you even start sourcing, you should determine what your interviewing process will look like. How soon are you looking to interview? Do you have the availability to devote the time needed? How many rounds of interviews will you need? Will the interviews be in-person or virtual? Do you require any assessments (technical or writing)? Are work samples or a portfolio required? If you plan to do multiple rounds with multiple people, go ahead and reach out to them to solidify a timeline to avoid any delays.
10. Work hours
Will the person you hire work standard business hours or is it a different shift? Will they be required to work overtime (exempt vs. non-exempt)? Will they ever need to be "on-call?" in today's time of remote work, do they need to be able to accommodate any differing time zones requiring early morning or late-night calls?
11. Equipment
Do you have a laptop/tablet/cell phone or other equipment ready for this person to use? If they're going to be on-site, do you have desk space for them? Do you have an onboarding process figured out, especially if they are remote?
12. Screening requirements
Do your positions typically require a background check and/or a drug test? Do candidates need to show proof of vaccination? Are they exempt from vaccination requirements if they aren't going to be on-site?
To say that hiring someone is complicated would be an understatement. That's why being prepared is paramount to your hiring success. Keep this checklist in your back pocket to help you along the way.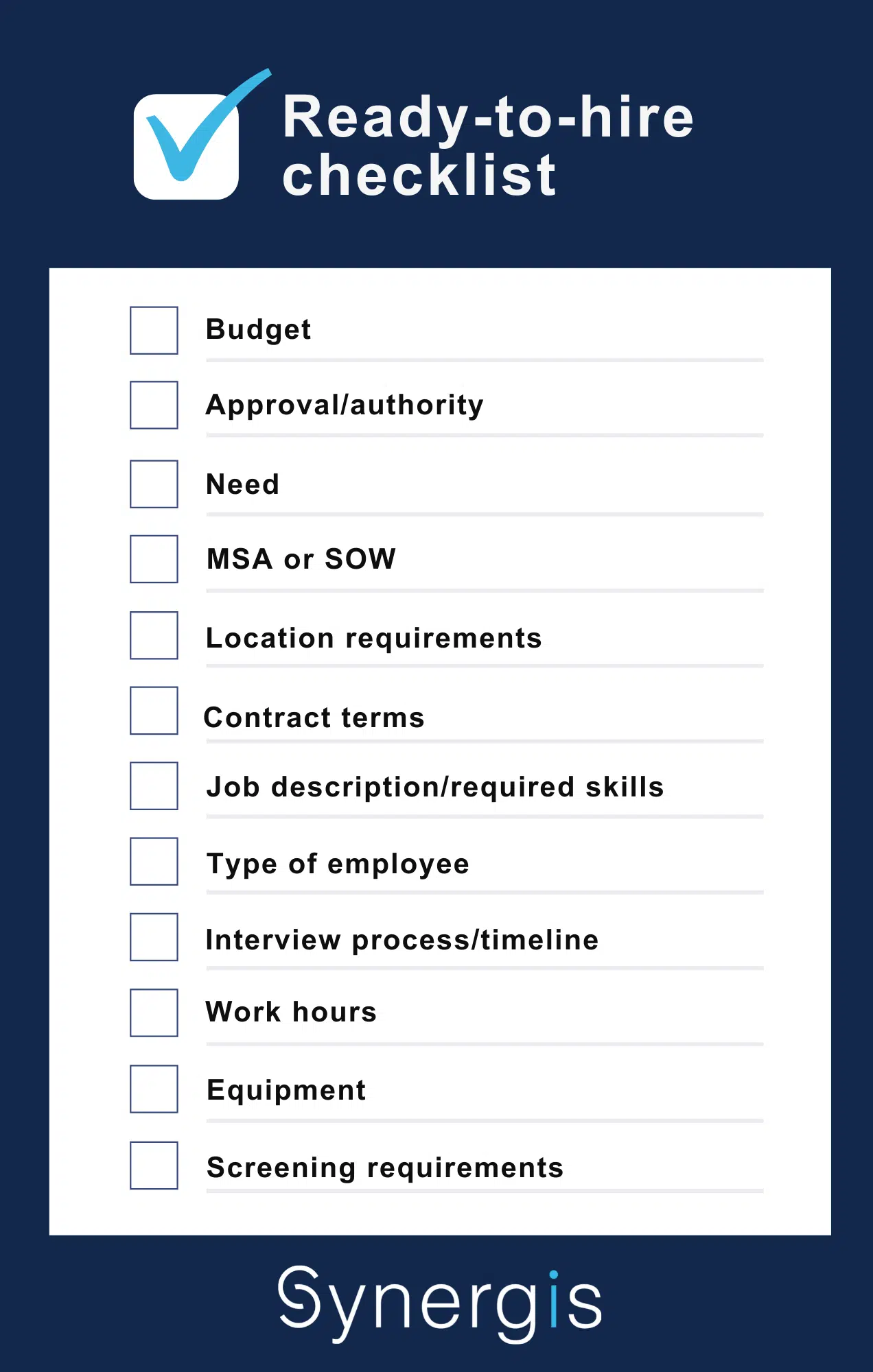 But why do it alone when you don't have to? Companies like Synergis are trained for this very purpose. Let us take some of the burdens off your plate so you can focus on your job, not the rigorous search for new employees.
"*" indicates required fields